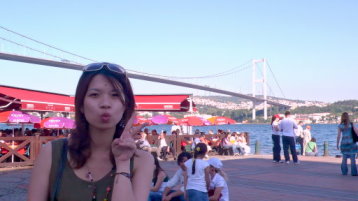 This is the first time i travel alone. when i was on the way to Birgul 's house, i couldn't relax. i was afraid that i would miss the train or plane. i also felt i grow up and i can go anywhere where i don't know.
easy jet is incredible. a lot of people take it to other country, of course the most important reason is price. easy jet is very different i have ever taken. it's small. u have to use ladder to get to inside. it's crowded for me. the distance of seat is very near. i can't sleep well in the airplane because of uncomforness.
after i arrived in istanbul, it's very funny because they thought i'm a japanese when i bought coke and exchanging money. it's quite strange because i can't see the broad about exchange rate there. than, i took a taxi to Birgul's house. During this time, i saw a lot of flag hang out. i'm also suprised that there are some people sell ghost mask and food in the motor way. i think it's too dangerous because of car speed.
i'm really happy to meet Birgul again.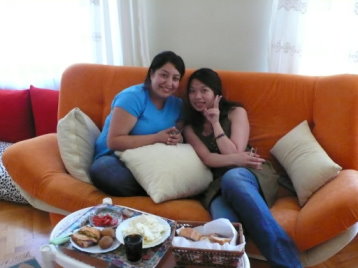 i'm glad to know Elif. she is Birgul's friend. now she is very busy to do her final project about architechure.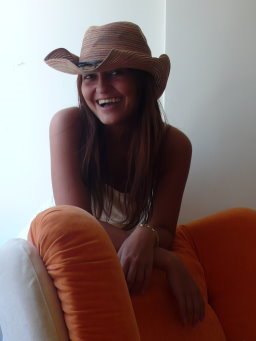 about today's lunch,i ate traditional food "icli kofte" (up right pic of curcle food) and "Su Borel Peynirli" (up right pic of square food) that Birgul's mom made for me. it is very delicious. we also ate turkish cheese.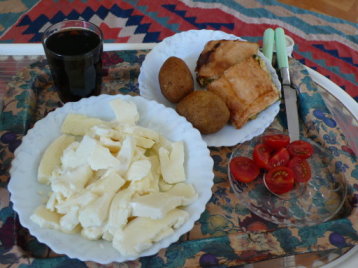 today i went to the place, similierly kenden market in London. there are a lot of coffee shops, restaurants, people there. i bought 2 necklace there. it's very cheap here.
i also tasted the food "Kumpir". it's very different from Taiwan's. Yummy!!! before i saw lots people eat "kumpir" i thought it is icecream because they put lots of yocut on it.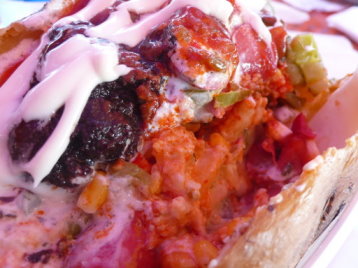 after that, i drank black tea. it's very interesting that every sugar is packed. i thought they are sweet.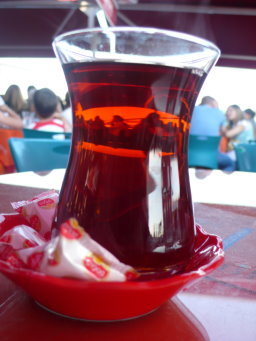 i visited Ortakoy Camii.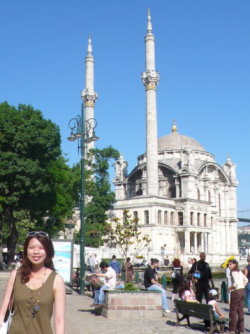 it's very beautiful inside. they decorate with crystal. shiny shiny. i love it. i went inside to visit with headscarf. i feel very strange why just man go to inside to pray.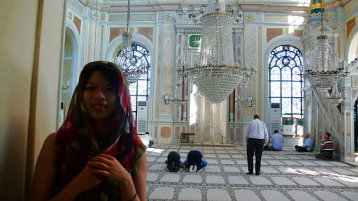 before enterance u have to take off your shoes. u also can hear ezan 5 times a day. it means men should go to mosque to pray.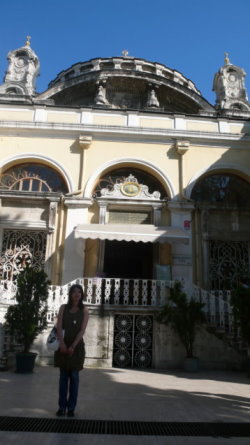 today i tasted turkish coffee. i like it because it's not bitter. ha~ it's very amazed that they always make a prediction after drinking coffee.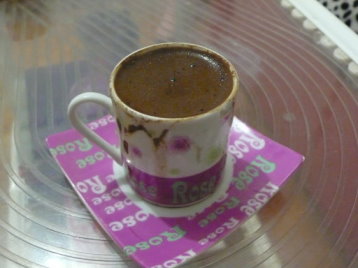 i'm really lucky i have Birgul here. thank you for everything.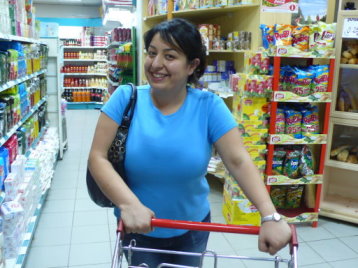 ps: i'm very stupid today. i locked myself in the bethroom. i don't know how to open the door. fortunately, i can pass the key to outside and then Birgul open the door for me.